How Do New Ideas Start? How Do New Contacts Develop?
Posted by Brian Kelly (UK Web Focus) on 18 May 2009
The Question
How do you ideas start? How can a informal conversation lead to an exploration of new ideas? How do such conversations start? And how does one participate in such conversations, especially with new people?
These were a series of questions which occurred to me a few days ago, following some early morning light-hearted banter on Twitter. I thought I'd share the dialogue and invite comments on the more general issues.
The Twitter Discussions
At 7 am on Friday 15th May 2009 I got up and downloaded the new tweets on my iPod Touch.  I noticed that James Clay had spotted that the "Latest upgrade to TwitterFon on the iPhone now includes Ads. There will be a paid for Pro version which doesn't". As I was using Twitterfon to view the tweet I had an interest in alternative Twitter clients, in case the ads on the new version were to intrusive. In response to my query on alternatives Joss Winn responded by suggesting that "if you're going to pay, Tweetie is worth every penny". Now I've not met Joss (as far as I know) but, a few months ago started following him on Twitter and subscribe to his blog.
In order to put his suggestion into context, I visited his blog and spotted his (then current) post on "The user is in control". This post was written in response to Andy Powell's post about Identity in a Web 2.0 World and contained some comments which reflected my view of how Web 2.0 is requiring higher education to challenge some of the assumptions we have previously taken for granted (in particular that higher educational institutions should regard themselves as automatically the main provider of a student's digital identity).  As I appreciated Joss's work in this area, I tipped my hat in his direction with a tweet posted at 07:23 saying "Ta for suggesting Tweetie app. BTW have just looked at your blog & will cite your post on "The user is in control" l8tr today". I'd made links with a new contact before 07.30 am.
When I arrived at work forty minutes later Joss had responded with a jocal tweet saying:
"excellent :-) A citation from Brian Kelly surely counts towards the REF!"
In a similar vein I made fun of the notion that citing tweets would have any relevance to REF (the Research Exercise Framework alternative to the RAE for identifying the merits of research publications:
"A citation from Brian Kelly surely counts towards the REF!" True – so if I cite u, will u cite me? (hmm should have DMed that!)".
Martin Weller observed this dialogue and joined in by suggesting that "semi-seriously we should work up our own set of metrics of reputation etc so we can compare when REF is done". Following a few further tweets between Martin, Joss and myself a few hours later Martin published a blog post on "What would ALT-REF look like?". The blog post included an image (shown below) which captured the discussions: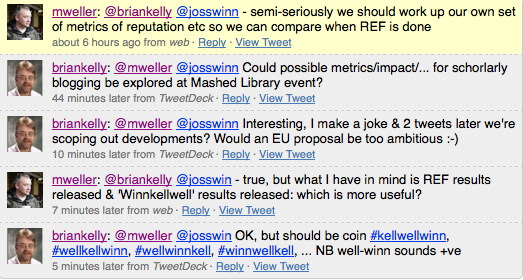 Discussion
Martin Weller's suggestion was that an alternative to REF would "take in the sort of distributed identity we have online, so measures activity in blogging, delicious, slideshare, YouTube, twitter, etc. It would need to measure not just activity but influence, impact, etc in some data driven manner". Whether this idea has any merits might be worth exploring on Martin's blog. My more specific interest is how the people who may be working together across the "blogging, delicious, slideshare, YouTube, twitter, etc" services might find each and share ideas which, at some later point, might provide significant benefits.
Martin and myself  have already benefitted from the discussions we've had on Twitter and from reading and commenting on each other's blog posts, with the shared understanding we've gained having led to a submission for a workshop session at the ALT-C conference which we'll be facilitating at the conference in September. I have also received contributions to a number of peer-reviewed papers from contacts I've met on Twitter.
Thinking about this in more detail, I realise that typically I might start following someone on Twitter if I feel I might gain something from this, such as new insights into digital library developments, use of Web 2.0, digital preservation, etc. If I do find myself following links embedded in tweets or enjoying contributions to a twitter discussion I might look at the Twitterer's blog (if, as is often the case, they have one) and subscribe to it so I can read their ideas in more depth on their blog. And this might then lead to further sharing of ideas and possibly joint work.
But if you don't tweet or don't blog then you are likely to be invisible to me.  This, I'm sure, won't be of concern to many people! But, more generally, won't a failure to have a presence in the blogosphere, on Twitter and in other social media which are being increasingly used in certain sectors of the research community result in a failure to have one's ideas being known about and opportunities to engage with others being missed? Speculation on my part, I'll admit. And there will be a need to gather evidence. So I've provided my anecdote.  Anyone had similar experiences?
2 Responses to "How Do New Ideas Start? How Do New Contacts Develop?"
24 May 2009 at 3:47 am

The NYTimes touches on the importance of a web presence: http://www.nytimes.com/2009/03/28/your-money/28shortcuts.html

It's less focused on research and more on networking, but similar ideas.

24 May 2009 at 10:36 am

This post really strikes a chord with me (bit late coming to it I know – been neglecting my RSS feeds, my unread items haven't dropped below 100 in weeks!). I joined Twitter a couple of months ago, as a student I've found it really useful in connecting with other information professionals, and seeing what the current hot topics are in LIS. I don't think I'd have got those kinds of insights anywhere else – at least not as up-to-date. I mainly follow LIS-related blogs too, for much the same reason. I've only just started blogging myself, but my hopes for that are much as you've described – allowing me to share my ideas, and engage with others with similar interests. Of course, I haven't got much to blog about at the moment beyond fighting with my dissertation, but even that's led me to make connections with other students or recent graduates with ideas and tips to share! I can see blogging and Twittering being really useful tools throughout my professional career.